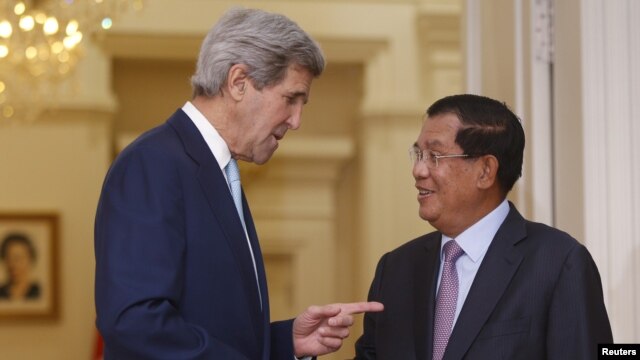 U.S. Secretary of State John Kerry is welcomed by Cambodia's Prime Minister Hun Sen in Phnom Penh, Cambodia, Jan. 26, 2016.
February 08, 2016 6:36 PM 
VOA Khmer
PHNOM PENH—
Prime Minister Hun Sen is preparing for a meeting of ASEAN leaders with U.S. President Barack Obama later this month, political analysts say the visit will be a good way for Cambodia to improve relations with the United States.
Hun Sen and other leaders will meet Obama in Sunnylands, California next week to discuss trade and security issues.
The meeting of the political and economic organization of 10 Southeast Asian countries follows the visit of U.S. Secretary of State John Kerry to Cambodia in January. It also comes after a trip to China